Summary
Delta Air Lines reinstated their quarterly dividend of $0.10.
Still trades over 40% below 2019 pre-covid highs.
Airline Industry continues to recover post-pandemic, presenting more growth opportunities.
Investment risks include heavy debt and slow historical growth rates.
Delta Air Lines (NYSE:DAL now sells at 8.86 FWD GAAP P/Es and is up 53.32% over the last year leading its peers along with United. I entered a position at $42.61. Despite rising over 50% in price Delta is still trading at an over 50% discount compared to its sector. Airline stocks seem to still be beaten down as they remain As Benjamin Graham states in his book The Intelligent Investor, "the stock market is a popularity contest in the short term, but a very accurate weighing scale in the long term." Delta still has plenty of room to grow as they have yet to hit pre-Covid 2019 highs of $63.44.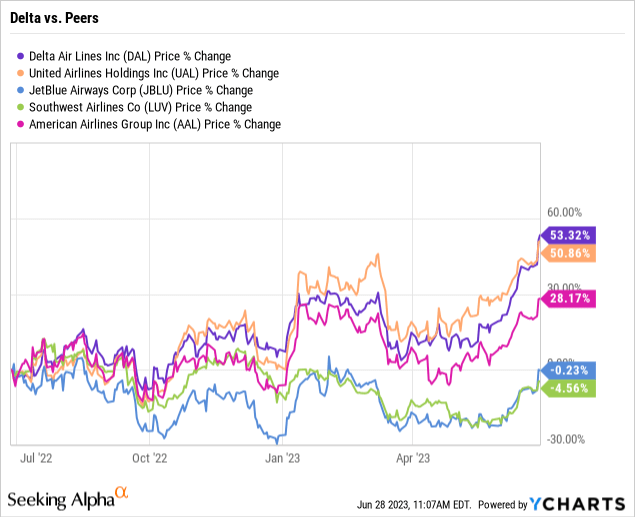 Buying Opportunity
As shown above, Delta is leading most of its peers YTD along with United (UAL . United is also still trading at a heavy discount sitting at a 6.11 P/E FWD GAAP. At 52-week highs, is there still value in buying Delta? If Delta were to return to their Pre-Covid high of $62.48, it would result in an additional gain of over 45%. According to Benjamin Graham's value investing strategy, in order to find value in common stocks, they must be selling at a low multiple in relation to earnings. For example, 15 is the maximum P/E ratio Graham would recommend buying. He also restricts the P/B ratio to 1.5. The only exception to a stock not satisfying both criteria is if the P/E multiplied by the P/B is less than 22.5. Delta does not satisfy the P/B ratio coming in with a ratio of 2.91 FWD P/B due to the heavy debt on their balance sheet from the pandemic which is a major concern and will be addressed later. Delta also narrowly misses the exception of multiplying P/E and P/B coming in around 25.78.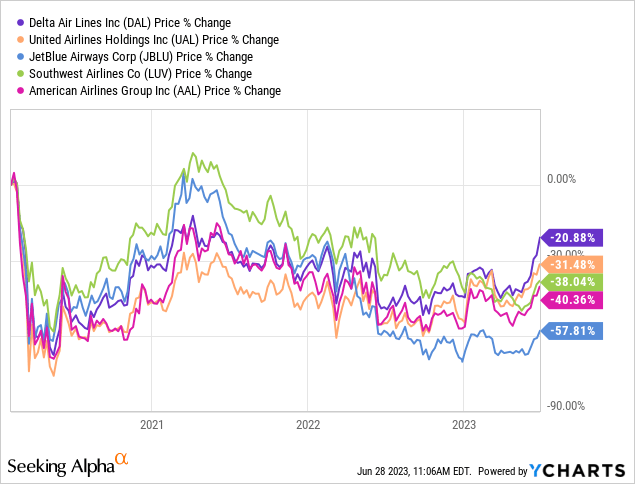 Delta is already ahead of their three-year financial plan as the entire industry is recovering back to the previous equilibrium. Reinstating their dividend signals continued strength in the company and especially in their financial position moving forward. Going into 2023 and 2024 with plenty of free cash flow adds to the confidence of a sustained dividend and reducing their massive debt acquired over the pandemic.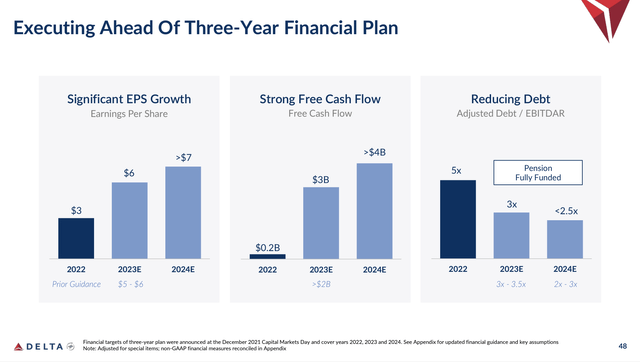 Industry Recovering and Projected Growth in 2024
Air Travel is returning to the average % relationship with U.S. GDP hitting 1.2% in 2022 and is expected to hit the historical average of 1.3% this year. "ICAO's latest analyses reveal that air transport seat capacity and passenger totals globally have reached an estimated 80% of pre-pandemic levels, with passenger revenue at around 72% of its 2019 high point" (ICAO). From the ICAO report, there's still plenty of room for passenger revenues to grow back to the pre-pandemic levels.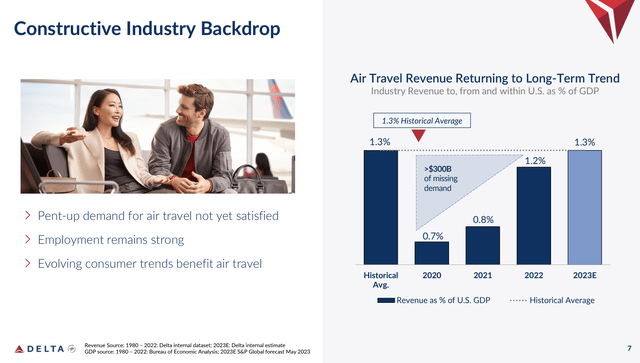 Delta has also positioned themselves well to weather any slow travel growth as they've put an emphasis on prioritizing their premium and loyalty revenue streams. They've already diversified down from 56% in 2014 down to 44% of revenue coming from their main cabin, a trend that should continue down to 40%.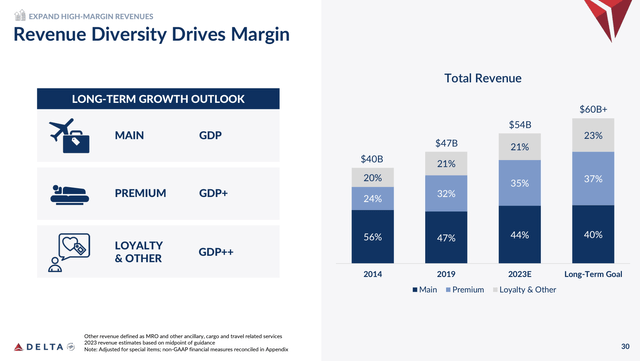 In addition to diversifying their revenue streams, Delta continues to raise their projections for the rest of 2023 and 2024. They've also baked in a growth from a $5-$6 EPS in 2023 to $7+ in 2024 showing their confidence in their recovery post-covid and beyond. They're also projecting have over $4B in free cash flow next year building on their momentum with paying of debt and reinstating their dividend.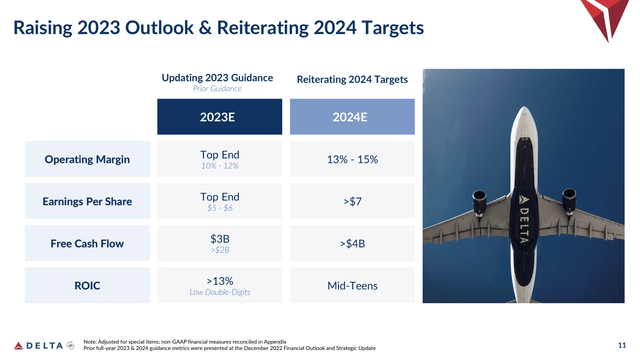 Reinstated Dividend
Delta reinstating their dividend was one main buy signals for me as I see this as a cheap stock with room to grow back to pre-pandemic heights but now also with the bonus of a reinvigorated dividend. As stated previously, their strong free cash flow for 2023 and 2024 will provide room for dividend growth back to 2019 and 2020 highs of $0.40/quarter.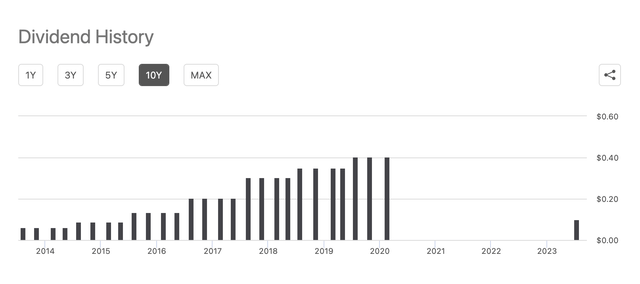 Before the pandemic, Delta had regularly increased their dividend every 4 quarters and I expect them to slowly go back to a similar dividend appreciation as things continue to stabilize.
Investment Risks
With every investment comes risks, with Delta we have to worry about their large amount of debt accumulated over the pandemic and their less than stellar growth rates prior to Covid. As mentioned before, Delta did not pass Graham's P/B ratio due to having over $30B in debt leading to a Book Value/Share of $9.62 and a Tangible Book Value/Share of -$14.57. This heavy debt could certainly hinder both growth rates and dividend growth rates in the future. However, they were still able to reinstate their dividend this quarter.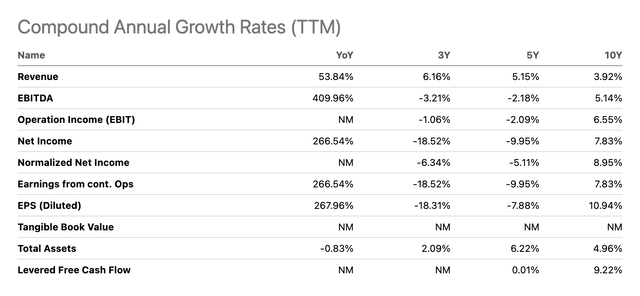 One other risk is despite their tremendous growth YoY as the airline industry recovers, their 10Y compound annual growth rates are less than exciting all in single digits besides EPS (Diluted) coming in at just 10.94%. These numbers are likely also suppressed due to the last few years, but their quarterly revenue figures from 2018 and 2019 all grew between 4-9% YoY showing stagnant growth. Even though we won't see any 20%+ growth rates from Delta over pre-pandemic revenues, it's still a stable profitable company that just reinstated their dividend after a brutal few years.
Overall Verdict: Buy And Hold
Delta shows some promise as a value pick despite reaching 52-week highs, with a P/E GAAP FWD (8.86) over 50% lower than the general sector showing significant upside. Any correction towards the sector P/E or pre-Covid levels would ensure gains from our investment with the added benefit of their reinstated dividend. While there is some upside with Delta, I'm calling this a buy and hold until the stock recovers to pre-pandemic levels and will likely sell around the 2019 high of $63.44. Despite the heavy debt, slow historical growth rates and recovering sector, I am long on Delta, and I entered a position at $42.61 on June 21st, 2023.
Photo by Miguel Ángel Sanz on Unsplash