Summary
REIT dividend yields are high today.
This suggests that their dividends may be at risk.
Moreover, quite a few REITs cut their dividend recently.
Should you expect more dividend cuts? Or are there good buying opportunities?
Right now, REIT dividend yields are the highest they have been in a long time.
This is because their share prices have dropped significantly over the past year, even as most REITs grew their cash flow and hiked their dividend: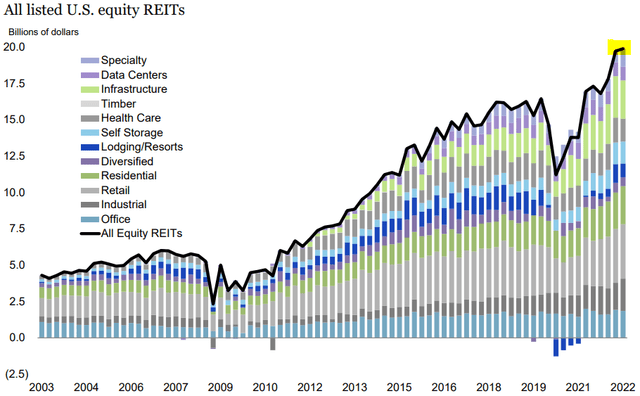 A lower share price coupled with a higher dividend results in a higher dividend yield…
Yields are suddenly so high that you can find high-quality REITs offering >8% dividend yields. Just to give you a few examples:
A few years ago, investors would have dreamed of such high yields coming from REITs that can grow their cash flow.
Yet, today, few investors appear to be buying these REITs due to fears of dividend cuts. Quite a few REITs have recently announced dividend cuts and it appears to be causing lots of concerns:
Gladstone Commercial (GOOD cut its dividend by 20%.
SL Green (SLG cut its dividend by 13%.
Vornado Realty Trust (VNO cut its dividend by 29%.
Is this becoming a widespread issue across the REIT sector? Will your REITs also cut their dividend?
The answer is that it depends, but most probably, no, they won't cut their dividend. Today, yields are so high in the REIT sector because valuations are low, but despite that, fundamentals are strong in most cases.
Balance sheets are the strongest they have ever been with a low 35% LTV on average and long debt maturities at 8 years: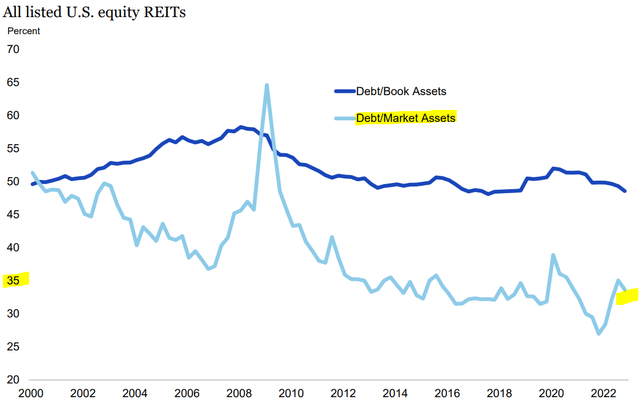 Cash flows also keep growing at a good pace. I just recently attended the Citi Global Property Conference in Hollywood, Florida, and got to talk to plenty of REIT CEOs and it seems that most of them expect 3-5% same-property NOI growth in 2023.
Today, the rents of many REITs are below market levels because their long leases prevented them from hiking rents in recent years when rents grew rapidly. To give you an example: Alexandria (ARE is able to hike its rents by 20%+ as its leases expire because they are below market: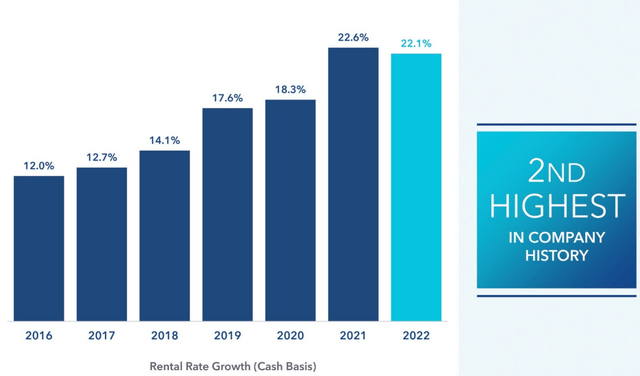 Dividend payout ratios are also historically low today because cash flows grew faster than dividend payments in recent years. This leaves good margin of safety even as times get tougher.
So no, your REITs are unlikely to cut their dividend, and that's despite now offering high dividend yields.
But there are exceptions.
Most recent dividend cuts have been in the office sector and I would expect many more of those in the coming quarters.
Office REITs are cutting their dividends because they are facing a perfect storm that combines:
Declining cash flow
Declining property values
Tightening lending
Rising interest rates
And increased need for capex
This will force many office REITs to cut their dividends in the coming years because accessing capital at a reasonable cost has become a lot harder and they now suddenly need to heavily reinvest in their properties to keep them desirable.
But it is important to remember that only a minority of REITs invest in office buildings. There are over 20 different property sectors and the vast majority of them are today doing just fine:
Industrial properties
Sunbelt apartment communities
Single-family homes
Manufactured housing communities
Farmland
Life science buildings
Cell towers
etc.
So just because a few office REITs have cut their dividend… does not mean that other REITs will cut as well.
Today, fundamentals are strong with growing cash flows, low debt, and safe payout ratios in most cases.
What's an example of a high-yielding REIT that I am buying today?
EPR Properties (EPR .
It is offered at a 9% dividend yield, which may leave you thinking that its dividend must be at high risk… but in reality, it is well-covered with a 75% payout ratio and it was hiked by 10% just last year.
I think that its dividend will be hiked again this year because the REIT has long leases that include ~2% annual rent hikes and it is also acquiring additional properties with its retained income.
Most of the company's assets are experiential net lease properties such as water parks, golf complexes, ski areas, and high-quality movie theaters.
Most of these properties are doing better than ever with near-3x rent coverage. They are doing exceptionally well in the post-covid world as people are seeking more experiences.
Even the movie theaters are recovering nicely. Amazon (AMZN and Apple (AAPL recently announced that they will spend billions to produce movies for theaters in the coming years. Paramount (PARA , Disney (DIS and others are now also returning to theaters after realizing that they couldn't make money with their direct-to-streaming strategies. The bottom line is that the Netflix (NFLX model didn't kill theaters and they are now recovering. EPR's theaters are among the most productive in the entire nation and they are already profitable today even as the movie slate has not yet fully recovered.
That makes EPR a unique, high-yielding opportunity with growth and upside potential.
Bottom Line
Just because something has a high yield does not mean that it will cut its dividend. Today, REITs are historically cheap and so naturally, they will be offered at high dividend yields. A high yield can be as a red flag and warrant more due diligence, but don't let it stop you.
Photo by Robert Stump on Unsplash